Reference Check Forms Through RecruitCheck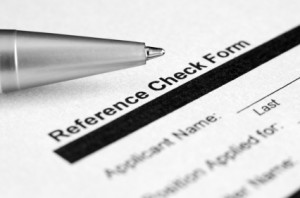 When you want to avoid making a bad hiring decision, you have to hire someone for reasons other than their interview performance. Your best bet for finding a good match for your job opening is to conduct a pre-employment check that will provide reliable references and insight into their behaviour, integrity, and character.
At RecruitCheck, we are the market leader in Australian reference checks with handy tools such as our reference check forms. By providing pre-employment reference checking services, we can give employers the option of outsourcing their reference checking requirements for a great low online price.
To get a better idea of what our reference check forms include, we have provided a few examples of questions that may be found to help obtain dependable references. With these questions, and others, employers can get the best insight possible when it comes to important hiring decisions.
An Example of Our Reference Check Forms
Before you decide to work through RecruitCheck, we have provided a small example of our reference check forms that employers can fill out about specific candidates. As the database grows, more and more information will be available regarding specifics of a candidate's behaviour and integrity in the Australian market.
Some of the information obtained through our reference check forms regarding past work experience, which we will obtain from his or her previous employer, include but is not limited to:
- Relationship to Candidate or Referee's Title/Organization
- Candidate's Last Position
- Approximate Dates/Months Supervised
- Describing the Candidates Role & Responsibilities
- How the Previous Employer Would Rate The Candidate From 1-10
- If the Candidate Made Any Outstanding Contributions/Achievements
- Why the Candidate Left the Previous Company
Avoiding the Consequences of Bad Hiring Decisions
Making a bad-hiring decision can do more than cost your company valuable money. It also affects business performance, morale, and is a waste of precious time. All things one needs to have a successful business.
By taking advantage of RecruitCheck's online reference check forms, you can gain valuable insight into a candidate's work ethic before they come in for an interview. With an increase in potential candidates in the Australian job market, companies all over the region now have a way to find screening help through an internationally staffed delivery hub.
What You Get Through RecruitCheck Reference Check Forms
If you take advantage of reference check forms through RecruitCheck, you can be assured that your needs will be met with fast and efficient service. Conducted by our highly trained staff, you will get everything you need for standardized and independent reference checking.
Besides having international reach, especially in the Australian market, RecruitCheck leads the industry in dependable results. Professionals in the field handle all reference checks personally, and with simple and easy to use features anyone can learn the system and gain valuable access to the world's biggest reference check source.
For more information about reference check forms through RecruitCheck, check out our services now. See how much it will cost you today to have the best reference guide for potential candidates in the Australian Market.